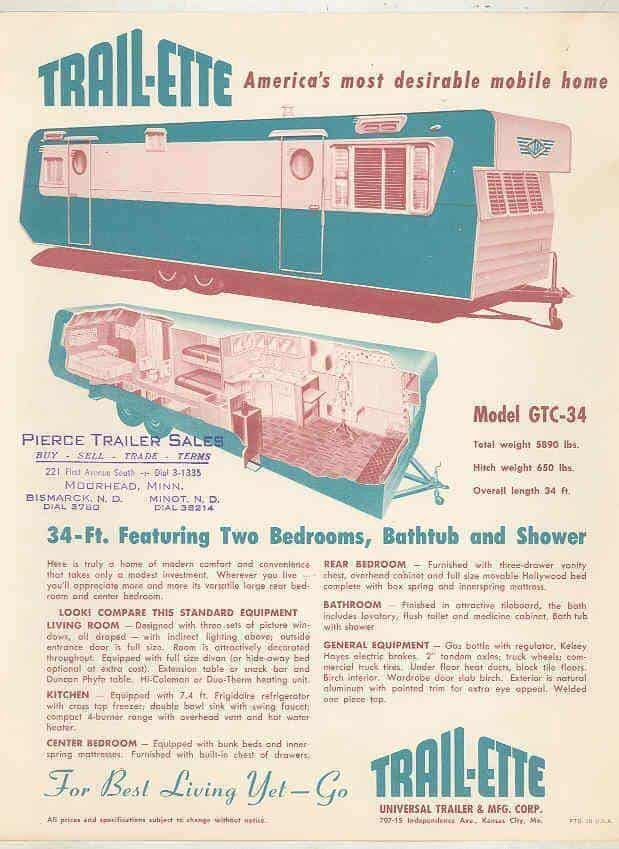 There is indeed nothing new under the sun, so last week when I thought I invented the Trailette, boy was I wrong! Someone immediately sent me a photograph of a 1947 Trailette, most likely a competitor of the early Airstreams. Now that I think about it, I believe our family lived in an Airstream at Bisbee's Shady Dell Trailer Park when we first moved to Bisbee in the late forties.
Even so, I've given myself permission to use the term once more to refer to what is essentially a four-city book tour—Seattle, Fort Myers, Tucson, and Phoenix. Short, yes, but in many ways sweet as well.
Since this week's blog is a continuation of last week's, those of you who haven't done so, may want to divert at this point and go back and read that one, thus preventing me from having to chew my cabbage twice. Last week's blog is listed to the right under Recent Posts. That'll be part one.
Because I've been around a long time, and because people tend to be repeat customers, when I'm doing events, I try not to tell the same stories over and over. My mother, Evie, would call that chewing my cabbage twice. In addition, I'm always looking for something that will make people laugh out loud because that's something there's been far too little of for the last three years—laughter.
Last week's blog dealt with a staging problem at the event in Fort Myers, Florida, which prompted me to talk about a previous staging problem at the library in Sun Lakes, Arizona. In a word, watching me being hauled up onto the stage in Florida may have been the first time some of those people had laughed in years, and since prat falls are always an essential ingredient in comedy, I thought, "Why stop there?"
So last week's blog was about those two things—being dragged up onto the stage in Fort Myers and about my landing flat on my backside when a rolling stool skidded out from under me in Sun Lakes, Arizona. Telling those two stories together was so much fun that, when I arrived at Sun City Oro Valley, I did a do-over. When I reached the part where I fell flat on my butt, I punctuated the words by giving the lectern in front of me a resounding smack with my hand, after which I continued with the talk.
Pretty soon my Apple Watch started buzzing on my wrist. I thought it was a news update from one of my news feeds, so I ignored it. Yes, there's a war going on, but since I didn't need to know about that in the middle of a book talk, I forged on. However, the watch continued to buzz, buzz, buzz! Finally I looked at it. "We see you have taken a hard fall," the words on the screen told me. "Are you in need of medical assistance?" By then, I had ignored the warning for so long, I'm surprised the EMTs weren't already on the scene. I selected the "I'm okay" button and pressed that. "Please provide more details," the watch insisted. On the third try, I pressed "I DIDN'T FALL!" After that, the watch finally got the message and stopped buzzing
Once again the audience loved it. So last night at the Poisoned Pen, I told the story yet a third time. (See that's the wonderful thing about doing live events as opposed Zoomers—you can use the same material over and over.) When I got to the part about missing the stool, I slapped the lectern again, and guess what. Not long after that, the watch started buzzing again. "We see you have taken a hard fall. Are you in need of medical assistance?" This time I was quick enough on the "I'm all right" trigger that there was no danger of anyone dispatching an ambulance.
The thing is, you really can teach an old dog new tricks. I told the same story today at Sun City West, but this time around I was smart enough to smack the lectern with my right hand—the one NOT wearing the Apple Watch, and we made it through just fine.
It's Tuesday afternoon. The last event is over. I'm tired and sitting in the quiet of my hotel room. I brought home some leftovers from lunch for dinner, YAY, La Piñata!! So I don't have to venture out again, but I can't sign off from this blog without talking about the glorious Tucson Festival of Books. I used to go to the festival and walk the mall getting my steps with no one any the wiser. Then, a couple of years ago, Bill Viner of the Bill and Brenda duo who came up with the bright idea of a book festival, dubbed me the Queen of the Festival. Now, as the old saying goes, I are one—a star, that is, at least in Tucson. People recognize me. They stop to talk. They want to take photos. And this is all very wonderful, but it's also hard work. It means the once I set foot in Tucson, not even on the University of Arizona campus, I'm recognized one sight—in restaurants, in stores, in hotels. It means that I have to be ON even when my body is longing to be OFF.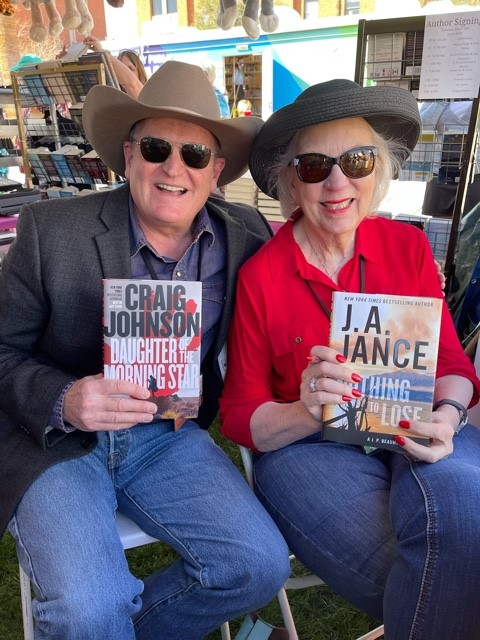 In addition to all those ego-boosting chance encounters, I made some very meaningful connections. In all the years of showing up at TFOB together, Thomas Perry and I have become friends. It was wonderful to have a chance to visit with Ann Hillerman and learn about her new home in Tucson. And it was really amazing to meet Elizabeth George for the first time. Although we probably live less than five miles apart as the crow flies in the Seattle area, we had never met and were delighted to learn the we're both fans of miniature dachshunds. And it was equally delightful to meet in person with fellow U of A alum and up-and-coming mystery writer, John McMahon. And lest I forget, there was that big hug from Craig Johnson. When the hug was over he said, "I knew you were a girl from the West, because you know which way to duck so we don't knock each other's hats off."
While out on the mall, a dark skinned woman, sitting on a walker and wearing sunglasses gave me the tiniest of waves. Believe me, I understand what an honor it is when a Tohono O'odham reaches out to a Milghan, (an Anglo) in public. I went over and asked if she was from the reservation. She allowed as how she was and that she had been to the event I did years ago at the tribal museum in Topawa. As we chatted, waiting for her son to return from the food tent so he could go buy her book and get it signed, she told me the when my first husband and I left the reservation in 1973, her family bought our bright blue Chevrolet Vega. (Long connection there!)
One last thing about the festival. It runs like a fine tuned machine on a literal army of volunteers who guide authors and visitors from place to place; who wipe down tables and haul trash; who escort authors from speaking venues to signing venues; who moderate panels; who supervise the parking garages. Those are the guys who make sure that the wheels stay on the TFOB bus.
I also ran into Rick Cole, a friend from my days in the insurance business in Phoenix in the late seventies and earlier eighties. And I saw a Pima Hall girl from my days at the U of A. Best of all, I also got to stay at The Arizona Inn, a place in Tucson that is brimming over with happy memories.
By the time I left Tucson, the only thing missing on my TFOB wish list was the scent of orange blossoms, but that one came true last night when I arrived at the hotel here in Phoenix. The orange blossoms are out here, because Phoenix really is that much warmer than Tucson.
So now I get to go home to Seattle. I hear it's supposed to rain later this week. Big surprise, but I'll be glad to be back. I guess you really can go home again—in both places.