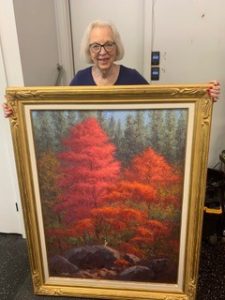 You may be wondering why there's a photo here of me holding an obviously damaged oil painting. I'm going to tell you, but be advised—it's a long story, and, as Bill says, with me there are no short stories. This one starts back in the mid-nineties.
At the time we had kids living in Tucson and going to school there, so when Bill and I went to Arizona and traveled to Tucson, we were "the parents." My parents were both still alive back then, so when we hopped in a car and went to Bisbee to see them, we were immediately "the kids." I told Bill more than once that at some point I wanted to go to Arizona and just be Bill and Judy.
Back then, of course, I was often on the road with book tours. In Scottsdale with the Poisoned Pen, I met a woman named Sheri Coleman. She was a big fan and was one of the early names added to what is now my new book notification list. She told me that she and her husband, Michael, lived in Sedona, and said that anytime we were in Arizona and wanted to visit, we were welcome to come and stay over. Sometimes when people say things like that, they're just making conversation, but for some reason, that invitation seemed real, and it stuck with me.
The next time we were going to Arizona, after putting in our parent time, and kid time, I made arrangements for us to go to Sedona and spend the night with Michael and Sheri. As we headed north out of Phoenix, Bill suddenly had cold feet. "Are we really going to go spend the night with people we don't know?" I told him, "Look, if it turns out to be bad, we'll tell them that plans have changed, and we can only stay for the afternoon." At that time, cell phone coverage was very spotty. Sheri had warned me that the last place we'd be able to get a signal was in Cordes Junction. While Bill filled the tank with gas, I called Sheri for directions—GPS wasn't a thing back then, either. When she told me we should turn off the highway at Elysian, I had a feeling that their house was going to be something special—and it was. Built on an I-beam frame on the side of a mountain, one side of the house was all glass and faced Sedona's famed red rocks. It was gorgeous.
Sheri and her dog, Mazie, met us at the door and directed us inside. She pointed us to a stairway and said, "You'll be sleeping down there." As we headed down the stairs, on the wall next to us was a magnificent painting of the Grand Canyon. The signature in the corner said M.L. Coleman. For several years prior to that, Bill and I had owned and operated a combination art gallery/frame shop. We'd had enough art magazines come through that I immediately recognized both the painting and the signature. I stopped in mid-stride and yelped aloud, "That Michael Coleman?"
Indeed it was, and that was the beginning of a beautiful friendship. We ended up changing our flight plans and stayed for three days. When it came time to leave, Bill said he supposed I could buy one of Michael's paintings. I'm sure he had a miniature in mind, but what I wanted was one of the gigantic Grand Canyons. It hangs in our home office to this day.
The four of us became great pals. Sheri is a fabulous cook with her cooking pretty much on a par with Michael's painting. We've spent numerous weekends together, with Michael and Bill doing plein aire painting together. We spent a couple of weeks traveling together in a very small minivan in the UK. When we bought the house in Tucson, it was a place with decades of deferred maintenance. The walls were appalling. It occurred to me that if we put up some paintings, people would look at those as opposed to the walls. We asked Michael and Sheri to bring down some paintings for us to choose one. They arrived in a van loaded with several and hung them all over the house. When it came time for them to go home, I didn't want to take down any of the paintings. We still have all of those, too.
Fortunately they let us pay over time. As a consequence, our ML Coleman painting collection grew. When we bought our house here in Bellevue, it came with lots of bare walls, so we bought more paintings—some of Tuscany, some of England, some of Scotland, another Grand Canyon or two. Which was all fine and good until we sold the Tucson house in 2019. We brought all the Arizona art to Washington where, the only way to fit art from two houses into one was to stack it. The first time Colt saw it, he looked around and said, "Grandma, it looks like an art gallery exploded inside your house." So when I'm doing inside steps, as I have been this week during our record-breaking heatwave, I'm also walking through thirty plus years of Bill's and my travels. One of the first places we visited as a married couple was the Grand Canyon to celebrate my parents' fiftieth wedding anniversary in August of 1986.
Which brings us all the way to Sunday night. Bill and I were sitting here watching TV and minding our own business when one Michael's paintings threw itself off the wall just to my left and slightly behind me. As you can see from the photo, it's big. The canvas itself is three-feet by four-feet. Add to that four inches of heavy-duty frame and you've got … well … a heavy-duty piece of art. It crashed to the floor, taking out my beloved china soup tureen, leaving behind a few hunks of recognizable ceramic vegetables, some pieces of plain white china, and a whole bunch of powder. Who knew that crushed china turns to powder?
Bill saw it coming down out of the corner of his eye. All I heard was crashing and banging. I thought the glass shelves on the bar had collapsed. The frame came to rest with one corner of it jammed against the bar with the other corner caught under the linen chest that sits behind our chairs. It must have cleared my head with little more than two feet to spare. See what I mean about dodging a bullet? In order to clean up, I needed to move the painting. To accomplish that, I also had to move my chair. With adrenaline flowing like crazy, I set a chair leg down on my iPad. Oops!
The dogs immediately took themselves outside. When they came in, I asked if they wanted to come watch TV. Not on your life. They took themselves straight to bed and stayed there! They were still upset the next day. That morning, while they were in the family room before us, Jojo tore into one of the dog beds, leaving behind a foot deep-snowdrift of black fluff.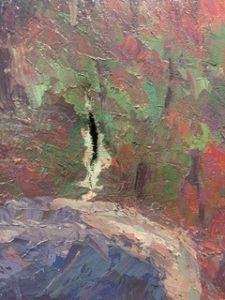 No one was hurt in the incident. The iPad was replaced by four pm the next day. I don't know what caused this to happen. The painting came away from the wall, pulling a quarter-sized hunk of plaster with it. The gash in the canvas is in the middle of the painting about a third of the way from the bottom. We've sent Michael the same photo as you see here. If we can get a piece of canvas attached to the back, I believe we'll be able to persuade Sheri and Michael to come visit so he can do an emergency patch job.
In terms of bragging rights, that will put me in a whole new category of art owners. Not only will I have original pieces of art, I'll even have one that's been professionally restored by the original artist.
After all, isn't that what friends are for? They're on hand in good times and in bad. In this case, my nose-diving painting will give the four of us a good reason to spend some time together.
What could be better than that?