Every week or so, I receive an e-mail from someone claiming to be a writer who would like to be hired as a "guest blogger" to add "content" to my blog. I'm sorry, the content in my blog comes out of my head, so how could anyone else do that? The first blog post a dozen years ago was called Respect Must Be Paid. It was just after we lost our son-in-law, Jon Jance (He took our daughter's name when they married.) after a nine year battle with malignant melanoma.
The only time I've had a guest blogger was after we lost our long haired miniature dachshund, Bella, the Book Tour Dog. I was too broken up to tell the world about what had happened, so my daughter, Jeanne T., stepped in to pinch hit. I didn't hire her to do it. She did it because that's what daughters do.
The past several months, while Bill and I have been dealing with his health issues, Jeanne T.'s family has been having a struggle, too. When the bad news came, and maybe because she really is her mother's daughter, and because it was too hard to say aloud, she turned to the written word to tell the story.
Many of you who have read Proof of Life, may have wondered how Lucy/Rambo managed to worm her way into J.P. Beaumont's life. By the time you finish reading this, you'll know. And so here, for the second time, please welcome my favorite and only guest blogger, Jeanne T. Jance, as she walks the Road to Goodbye: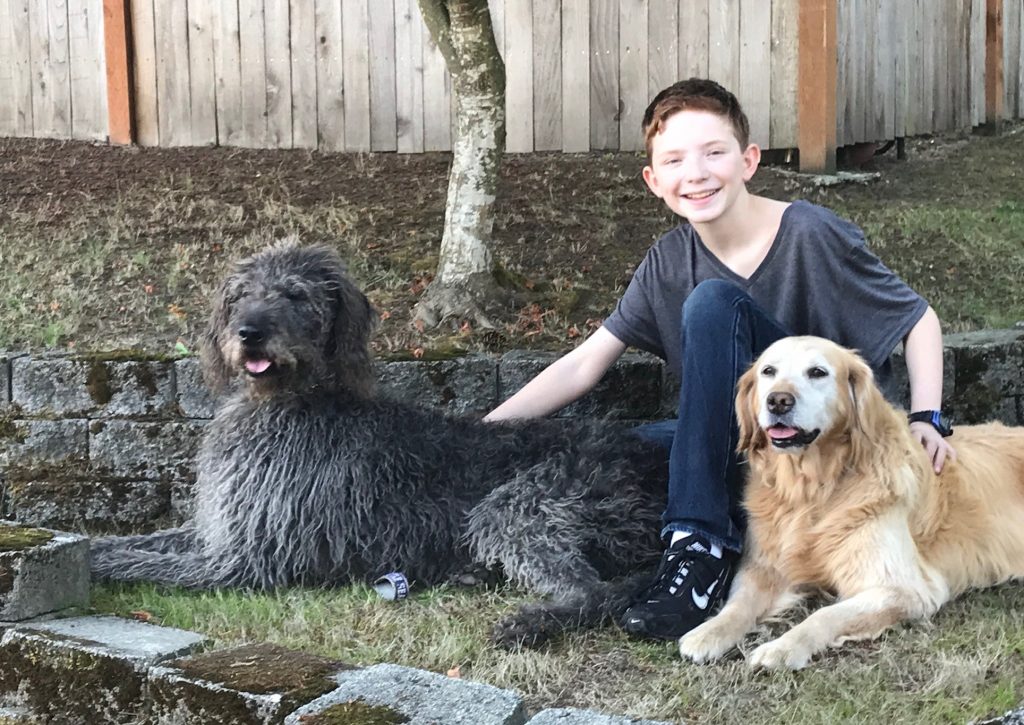 How did Stormy Girl get here? For years Colt and I have made donations to animal shelters when we go on vacation in honor of our much loved golden retrievers, Kensie and Angel. We skip the souvenirs. Instead, we find a shelter and a wish list. Then we shop, donate, and tell the people at the shelter that we do this in memory of these dogs who went to be with Jon.
When we rescued Snowflake, she was a puppy mill Mommy who had never lived a good life. She came to us broken. Our love changed her and fixed her. I was raised with sets of dogs–dogs in pairs, Nikki and Tess; Aggie and Daph. We did not know who Snowflake's partner would be, but knew she was out there.
Every year we go to the Tulip Festival and do a donation to N.O.A.H. As we were heading up five years ago, Colt asked if we were going to do a donation to the shelter. I said, "We're not on vacation." He replied, "You are not at work, and I am not at school. It seems like a vacation to me." What idiot Mom would turn DOWN a chance to donate to the animals waiting for forever families? So we shopped and went to the Tulip Festival.
It snowed on the way up. It hailed. The fields were not crowded, so it was good for pictures if you could feel your frozen fingers well enough to take pictures. That was one fast trip through the tulips!
After that, we went to N.O.A.H to do our donation and try to warm up. We donated, and Colt asked to see the animals. They asked, "Are you looking to adopt?" My answer was a firm no, but after our donation, they let us in anyway.
We walked along the criminal animal glass windows and everything was fine until we got to the orange one. A little puppy sat up, and Colt leaned in so they were nose to nose on the glass. Then she reached up and put a paw on his face through the glass. I watched him fall in love for the first time and knew that, one way or another, we had our new family member.
We had to go back the next day for a dog date so Snowflake could meet the new puppy. It hailed and snowed again on they way up, and so that puppy . became our Storm. We had our new set—Snowflake, our golden, and Storm, our part chaos but mostly Irish wolfhound)
We have loved them. Snowflake and Storm are a mismatched pair of dogs,. Through the years, these ere are some of the things we have cherished most. Colt hides, and Storm finds him. All I have to say is "Where is Colt?" and she will take off in a long legged run to find her boy. Snowflake and Storm love ice cream. Snowflake will inhale hers fast enough for a dog brain freeze. Storm will sit while one of her humans holds the cone and she eats it like a human. The only difference is her tail wags the whole time she eats it. This is the best part about ice cream at our house.
The dogs love Christmas and seeing what comes in the stockings. Storm's stocking holder says "Believe," because we always believed Santa would see her as we see her. She loves to go under Colt's legs and lean up and kiss him at the same time. The first time she did this when he came back from a trip his legs were so short she lifted him off the ground. He is taller now so his feet can touch the ground, but it is their special boy and dog dance. She loves stuffed toys. She will show them to you and dance away just as you try to make a grab for them. I never worry about Colt's safety if she is with him. She would do anything for him. She picked him, and he picked her.
Right before Christmas this year Storm had a problem with her front paw, and I took her to the vet. My biggest worry was that she might lose her front leg and how would that work for our giant puppy?
The vet came back and told me there was a chance it could actually be Melanoma. I almost fainted. My husband, Jon, died of melanoma. I knew if I fainted and they tried to help me, Storm would have a big problem with that. It was not the news we wanted to ever, and especially not right before Christmas.
Then they said it looks like she is OK, but they were still going to test the results, and we needed to see the oncologist. We did last Tuesday. A new set of X-rays showed melanoma tumors that were not there a month ago, including some in her tail. I was instantly transported back to my own personal hell with Jon, but this time it's with Storm our beloved 5 year old puppy.
The vet told me that Storm may only have 2 or 3 months left with us. I had to go home and break the news to Colt. We are devastated and heart broken. We have no way to tell Snowflake that she is about to lose her pal.
We plan to love Storm and spoil her with the time she has left. She had her last helping of holiday milk, aka egg nog, just last weekend. She has brought us so much joy over the years. I hope she knows how loved she is and understands that there will never be another Stormy Girl in our hearts. We met her while honoring the two other dogs we loved and lost, and we will have to add Stormy Girl to that list of those that we still love and miss but know we will see again some day. Our hearts break because of the love we have for her, and we want her to know how much we have cherished our time with her.
So please keep our family in your thoughts and prayers. To some people dogs are just dogs.
We are not those people, and our hearts are breaking as we know the road to goodbye has just started.
Love,
Jeanne T., Colt, Snowflake, and Stormy Girl