I have not just one but two books coming out in the next couple of weeks and the details on those will follow, but please be patient while I deliver a pet peeve. New book announcements turn up in my mailbox on a daily basis. What do they mostly say? "My book, _______, is due out on ________. Please buy it. The end!" I usually end up deleting those announcements without reading them because it's my personal opinion that newsletters should actually be …. well … newsy.
With the exception of the pandemic, I generally publish two books a year, but please don't call me "prolific." Being called that is another pet peeve of mine. Productive? Yes. Prolific? NO! (Note to self: Judy, you seem to be exceptionally grumpy today.). Maybe that's because I'm exceptionally busy. For one thing, I'm a day late in writing the blog/newsletter which is usually put to bed by Wednesday evening. Now, late on Thursday, I'm stuck playing catch up.
People often ask me if I work on more than one book at a time. I don't WRITE more than one book at a time, but I certainly work on more than one book at a time, and I'm about to give you a living breathing example.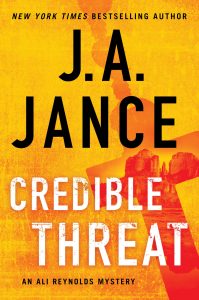 Attention DTRs, those wonderful Dead Tree Readers of both hardback and paperback editions. Back in the old days, the early nineties, when it came time for publication dates, the previous year's hardback would appear in paperback at almost the same time as the pub date for the new hardback. Well, folks, it's officially back to the future time around here. Credible Threat, Ali # 16, will appear in paperback on May 25 while Ali #17, Unfinished Business arrives in bookstores on June 1. Believe me, this comes as a big shock to my system because, in terms of writing, I just hit the 70% mark in creating the next Beaumont book, Nothing to Lose. Being on the banana peel of one book while promoting two others at the same time is a bit of a stretch, but we'll make it happen.
As a consequence of the upcoming hardcover pub date, yesterday afternoon ten cartons containing copies of Unfinished Business showed up on my doorstep needing to be autographed and/or personalized and then reshipped to bookstores. Details on those will follow as well, but this is the news part of the newsletter. The last time I was autographing and shipping books was for Missing and Endangered, and I was doing so in the face of an impending snowstorm. I broke my neck to have the books back in transit before the snow hit. The ones shipped by UPS arrived in a timely manner. The ones sent via USPS remained in our local post office for two weeks—until well after the snow melted—and didn't arrive at their destination until AFTER the on-sale date. Let's see. Does that make USPS pet peeve # 3 of the day? Yup, Miss Grumpy Drawers speaks again. So this morning, before writing the blog, you'd better believe those cartons of books got autographed and sent on their way!
Because Covid is still laying waste to book tours, the one for Unfinished Business is going to be all virtual all the time. The kickoff event for Poisoned Pen in Scottsdale will be on Facebook Live on June 1, 7 PM Arizona time. Here's the link:
Poisoned Pen Live Event, July 1, 7:00 pm MST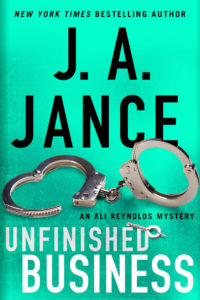 (Note to anyone NOT living in Arizona. That state doesn't do Daylight Savings Time!! In the spring and summer, Arizona Time and Pacific Daylight Time are one and the same.) Poisoned Pen will have a supply of autographed books on hand. For those of you who prefer personalized copies, please contact Mostly Books in Tucson. Here's a link from them where you can arrange for pre-orders of personalized or non personalized copies:
Mostly Books Autographed copies
My publicist at Simon and Schuster is doing a bang up job of setting up events all over the country, from California to Florida, from Arizona to Pennsylvania. I'm excited to see that some of those events are in places where I've never done live ones. But we're working with a new scheduling dynamic here. My IT gal will be posting new events and links to the calendar as confirmations come in, and she'll also post reminder announcements on my Facebook author page on the day of said events.
This is the time when I do the callout for people who want autographed bookmarks and/or autographed bookplates. Please send your business sized SASEs (#10 self-addressed stamped envelopes) to:
J.A. Jance, P.O. Box 766, Bellevue, WA 98009
Smaller envelopes and those from left-over Christmas or birthday cards do not work! By the way, the bookmarks have been ordered but have not yet arrived. Please don't send your request off and then expect an instant response. Believe me, I'll do them eventually, but the next Beau book needs to be in New York soon. With a deadline actively ticking, I can't afford to take my eye off that ball!
When Missing and Endangered came out, my loyal fans hit their pre-order buttons and put that one on the NYTimes list. Thank you one and all. I'm hoping the same thing will happen this time around. Some of my dyed-in-the-wool Beaumont fans may be thinking that since this is an Ali book, they don't need to pay attention, but that would be an erroneous conclusion. Much to Beau's surprise and mine as well, J.P. does a guest appearance in this book and makes an important contribution to the story line.
After signing all those books this morning, I was going to close with a word about shipping cartons, but newsy or not, this is already running too long. So next week, on Tuesday, if any of you happen to think of it, please send me an email containing the words "shipping cartons."  That's all I'll need.  What I write next week will be a blog-only, rather than a newsletter going out to my new book notification list, but with a timely reminder or two, I may have it written on time, the banana peel on that Beaumont book notwithstanding.
Regards,
JAJance, AKA Miss Cranky Pants