Sixteen years ago Bill and I had downsized and were living in a condo in downtown Seattle. Our daughter was married and living in Redmond on the far side of Lake Washington. Before I continue, here's a little background about our son-in-law. When we met him, his name was Jon Barbaro. He and our daughter, Jeanne T., met and became good friends when they were both attending Pima College and doing volunteer work for Special Olympics.
Jon was from Tucson originally and had done two tours of duty with the Marine Corps in the Middle East during Desert Storm. When he married his first wife, Jeanne T. was an invited guest at the wedding. Years later, when Jon and Jeanne T. reconnected, that first wife had taken her goods, bailed on him, and filed for a divorce. Jon, then in the Coast Guard and left with nothing but a bar stool and a phone book, was living in Alameda in a stripped-bare apartment. Jeanne T. and Jon started out as friends again, but that quickly changed to romance. Then, shortly after they began dating, Jon was diagnosed with melanoma and given the grim prognosis of maybe five years. At that point, Jon tried to break up but she said, "No way." A year and a half later they married.
Theirs was and still is one of the happiest weddings I have ever attended, despite the fact that the wedding rehearsal was delayed for an hour and a half due to a police chase from a failed bank robbery that came to an end a block and a half from the wedding venue. My mother watched the drama play out from her hotel room window as one of the robbers got shot in the butt before cops loaded him into a squad car. I'm pretty sure it was a memorable wedding for Evie, too.
At the end of the wedding ceremony, when the minister presented the newly married couple, he introduced them as "Mr. and Mrs. Jon Jance." That was the first I knew that Jon had decided to relinquish his last name, one that had come via an impermanent stepfather, in favor of taking Jeanne T.'s name. Believe me, that's one way of finding a permanent place in your mother-in-law's heart.
By then Jon was two years into treatment, including multiple surgeries and chemo. He and Jeanne T. had been told that, due to the chemo, it was unlikely they'd have kids, so they had golden retrievers and bought a small house. But then surprise, surprise, something our daughter first thought to be food poisoning turned out to be a serious case of morning sickness. That's when our grandson, Colt, appeared on the scene.
With Jon in and out of the hospital, Jeanne T. found herself dealing with a newborn almost singlehandedly. As a result I was spending a lot of time commuting back and forth across Lake Washington and shuttling either to hospital rooms or to their house in Redmond. At that point, Bill said, "Our daughter is going to end up being a single mom. We need to live closer." And that's when we purchased this home in Bellevue, three miles or so from where they live with no Lake Washington in between. We bought the house in May and moved in in June. The first family event we held here was the reception following Jon's funeral that August. Colt, our grandson, was nine months old at the time.
When we bought the place, the near backyard was all hard surfaces. There was zero shade around the pool where the border was planted with yucca—ouch! The far back yard was all hard surfaces too, including an astroturf putting green, a go-cart track, and a fishpond that wouldn't hold water. We soon discovered there were water damage issues with the house, and it took several years to sort those. Finally, when Colt was five, we decided it was time to deal with the back yard and hired a landscape architect named Alan Burke of Classic Nursery to handle the job. Which he did, beautifully.
The first thing that happened in the garden remake process was the delivery of a truckload of boulders for the new fishpond. Colt looked at that rock pile and said, "Grandma are you only going to grow rocks in your garden?" Once the rocks were distributed and thanks to Alan Burke, we now have a lovely fishpond that doesn't leak. And at the bottom of the steps leading to the lower back yard Alan satisfied my life-time's worth of wisteria envy with a lovely arbor.
In the ten years since then, the garden has become far more than a pile of rocks. These days, I love sitting on our heated back porch in the springtime and looking downward at layer upon layer of different shades of greenery—the dark green of the vines and palms in the hanging baskets; the wisteria arbor which, depending on the season, is sometimes lavender sometimes chartreuse; a red-leafed Japanese maple on the front side of the pond; and the shiny fronds of the palm trees planted on the fishpond's island. In the back ground is our neighbor's lush stand of towering Douglas firs.
For years my favorite pieces of the garden have been the fishponds and the wisteria arbor. Originally we stocked the ponds with twenty-five cent goldfish from Pets Mart, one of which grew to be a koi I called the Big Guy. Another out-sized goldfish was named, Big Orange, and the two of them actually had an orange and gray offspring. For Father's Day each year, Jeanne T. and Colt usually restock our fish population.
At the beginning of spring this year we had 30 or so fish In the back pond and almost as many in the front, but then a marauding heron came calling. Now there are no fish in the back pond and I thought the same was true of the front pond as well. I hadn't seen any fish there for weeks. Last night I dreamt I went down the the pond and the Big Guy was there, so today, just for argument's sake, I threw some food into the front pond. Later, while I was sitting here writing, the heron showed up and I was able to fire off one of my handy-dandy Nerf gun whistling bullets at that fish-eating creature. He took off like a shot. Since he still believed there were first there, I went down to check one more time. Low and behold, there was Big Guy and Big Orange, too!!! YAY!!!! You can bet that we'll be sitting guard on the porch every afternoon from here on out. (By the way, the Nerf Gun was a Mother's Day gift several years ago from Jeanne T. and Colt.)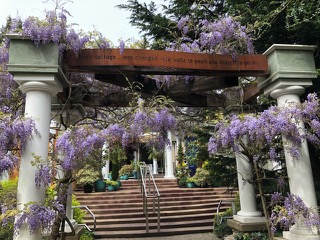 As for the wisteria? It hasn't fared so well. Last week the beams that serve as cross braces in the arbor collapsed under the weight of all those lovely magnificent lavender flowers. Kerblammo! The accompanying photo was taken by a visitor named Karen Hugg the week before.
And so, as our fifteenth Memorial Day without Jon comes around, all those memories are intertwined, not unlike gnarled wisteria branches. We live in this house because of Jon and Colt. Things change and life goes on. The ponds are still beautiful even without the fish in the back one. The arbor isn't what it was before, but the wisteria, although somewhat broken, is unbowed.
As for Colt? Because of Jon's melanoma, his mom wanted her son to participate in a sport that didn't require sunscreen. She chose bowling, and the kid took to it like a duck to water. A couple of weeks ago, at a regional pro/am tournament, he bowled a 278, a 242, and a 279. Not bad for a fifteen year-old.
As so many other families in this country are all too painfully aware, Memorial Day isn't just for picnics and hot dogs. It's a day for personal reflections and remembrances, and these are mine.
PS. Here's the link to the Seattle Times article featuring my garden.