The Literary Lions Gala has long been a major fund-raising event for the King County Library System. I participated in the first one where, if memory serves, authors were seated at long tables in the Bellevue Public Library while attendees walked by, carrying their beverages and observing us. Considering the name of the event, the similarity to being an animal on display inside a zoo was a bit too close for comfort—at least it was for me.
The speaker that night was awarded a molded glass lion. I left the event that evening feeling a bit out of sorts and with no idea that years later, I, too, would be awarded one of those molded glass lions. Mine now resides in a place of honor with a number of other awards on a chest at the end of our front hallway. That little award holding niche is a spot our decorator jokingly refers to as "the shrine."
Shortly after that first event, we purchased our home in Tucson. Since the Literary Lions Gala is held in March, that meant we were usually snow birding it close to 2000 miles away, thus making our attendance at the event itself impossible. But libraries have always been important to me, so when they asked for an auction item, I suggested hosting an author salon in our home, something that could be scheduled to occur after our return from Arizona. Over time, other people have caught on to that idea, and hosted author salons are currently big business for KCLS
For the past six years, seven now, that's what we've done—hosted author salons at our home. These have mostly been afternoon garden party affairs complete with catered food and parking valets. People have dined outdoors at patio tables in and around our poolside gazebo. Scheduling considerations have generally meant that the parties were held on Sunday afternoons in July, and it turns out there's a problem with that.
By July the interior of the gazebo is right in line with later afternoon sunlight. Believe it or not, the Seattle area gets a lot of that in mid to late July. And when the sun is shining full bore into the gazebo, even with protective curtains, the gazebo turns into your basic outdoor microwave oven.
For this year's event, we decided to wise up. Instead of having our author-salon/garden party in July, we would hold it toward the end of June. And, to avoid the heat, we'd have a late morning brunch instead of an afternoon gathering.
So as we were doing sorting of furniture and hanging of art, the June 23rd deadline for our Literary Lions Author Salon created a very real deadline for having the work completed.
This year, as usual, Seasoned in Seattle provided the catering. With twenty paying guests, we decided we could forego the parking valet. There was a bit of a parking uproar at the top of our driveway at the very beginning, but that was settled in short order. My longtime friend, Patti Payne, conducted an author interview and did a fine job of it. But here's something we hadn't taken into consideration—the weather. It was way too cold for a garden party. Some people ate at the dining table in the gazebo all right, but they did so with the fireplace and portable heater running full blast. Some people ate on the back porch, but there, too, the heaters had to be on to keep them from freezing. Everyone else ate inside the house.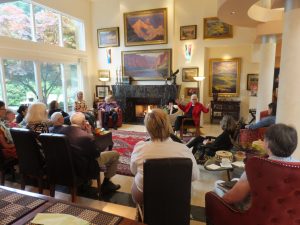 When it was time for the author interview, there was no chance of having that part of the program outdoors, so everyone migrated to our redesigned dining room and living room. The abandoned grand piano we rescued from the house next door has now gone to a new free-to-good-home location, which means the living room currently has a lot more room in it. And the furniture we dragged home from Tucson has settled into its new digs, providing a lot more seating capacity.
People from the library took photos of the event which they sent along yesterday. I believe I mentioned that when our grandson Colt came through the redesigned living room, he looked around and said, "Grandma, it looks like an art gallery exploded inside your house." I have to agree, that's a pretty good analogy.
After I posted about our art-hanging adventure, a number of people asked to see photos. When the ones from KCLS showed up yesterday, I decided they were just the ticket. As you can see from the photos, there's a lot of glass in the room and not that much wall space, so we made use of every inch.
The large paintings there are done by artist M.L. Coleman, our good friend from Sedona. His paintings have graced our walls for years now, and our friendship with him and his wife, Sheri, has graced our lives for that many years as well.
As for next year's author salon? We'll probably stick to the brunch idea, but maybe a date in July would work out better. I don't want any attendees going home with cases of pneumonia.