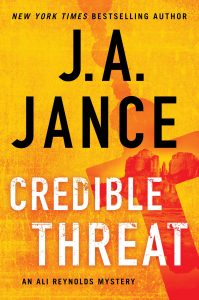 As Covid 19 put the nation on hold, it put on-sale dates on hold as well. Credible Threat, the new Ali Reynolds book, was due in stores first in March then in April. Eventually it was moved to June 2. Moving that book's pub date caused a change in the due date for the next Joanna Brady book as well. Missing and Endangered is now due out on February 16 of 2021. Bookstores in your area may not yet be able to welcome in-house customers, but they can do sales with curbside pickup. Bookstores have been terribly hard-hit by the lockdowns, so please call or send your on-line orders. I don't want to live in a world without bookstores, and neither do you.
Bookmarks are available. They're a slightly different format since my publisher did them in advance of the Tucson Festival of Books which was, of course, cancelled. Self-addressed, stamped envelopes requesting autographed bookmarks should be sent to:
J.A. Jance
P.O. Box 766
Bellevue, WA 98009.
As I've said before, this is my newsletter. It's primarily to let people know about books, but it's also a way of letting my readers meet the woman behind the words. So today I'd like to talk about Memorial Day and about remembering my son-in-law, Jon Jance. (Yes, he was my son-in-law, but he took my daughter's name when they married.)
First and foremost, Jon was a great guy. He served two tours of duty with the Marine Corps during Desert Storm. After leaving the Corps, he went back home to Tucson. For a while he did house painting for a living, but what he really wanted was a career in electronics. One way of achieving that goal was to join the Coast Guard where he would be given the exact kind of training he wanted. He was stationed in California waiting for the next opening in the school when two things happened to him. For one, he reconnected with my daughter, Jeanne T., then shortly after they started dating, Jon was diagnosed with malignant melanoma and given a five-year survival timeline. Knowing that, he tried to break up with Jeanne T., but she told him he was too late and together they embarked on a nine-year battle with the Big C. They got engaged and got married in one of the loveliest weddings I have ever attended. It was when the minister introduced the newly married couple as Mr. and Mrs. Jon Jance that we first learned about Jon's changing his name to hers.
After being told they would never have kids due to Jon's early treatment with Interferon, they decided their kids would be golden retrievers. With Kensie and Angel in tow, they bought a small house in Redmond and got on with their lives. Other than having melanoma, Jon was a healthy young man, and he signed up for every cancer-fighting protocol that came along. He was patient number six in Dr. Yee's pioneering T-cell protocol, a form of treatment that is now giving hope to melanoma patients when they otherwise would have had a death sentence.
Dr. Yee's treatment provided Jon two years of fairly good quality of life. It also gave us our grandson, Colt, who was nine months old when we lost his father. Jon was active-duty Coast Guard until three months before his death, and he's buried at the Coast Guard's Douglas A. Munro Cemetery in Cle Elum, Washington. For the past thirteen years Colt and Jeanne T. have faithfully trekked over the mountains to the Memorial Day celebration where they've been able to meet with some of the Vietnam Vets who delivered the 21-gun salute during Jon's graveside ceremony. One especially, a guy named Steve, always seeks Colt out just to visit.
When Colt hit fourth grade and could sign up for band, he opted for trumpet and asked the music teacher if he could learn Amazing Grace so he could play it for his dad on Memorial Day. The teacher told Jeanne T. that in forty years of teaching band no one had ever asked him for that before, but he certainly delivered. That year, as Jeanne T. and Colt were driving their dogs to Doggie Day Care, the DJs on their favorite radio station asked what people were doing in honor of Memorial Day. With his mom at the wheel, Colt is the vehicle's communications officer. As such, he dialed the station's number and told them that he'd be going to the cemetery to play Amazing Grace for his dad. The DJs quickly went to an unscheduled commercial break. They asked if he would come in and play Amazing Grace for them to broadcast live. He did, and they did. It was very much a beginning trumpet player's rendition of the song, but there wasn't a dry eye in the house or from anyone who heard it.
Now it's four years later. Colt is in the 8th grade. He's also been in jazz band where he plays both trumpet and euphonium. Shortly before the lockdown, he played in the Lake Washington School District's Honor's Band concert. Now, of course, the year's last concert is off the calendar as is Colt's 8th grade graduation. I've asked him to record Amazing Grace: Colt's Trumpet Solo.
This week I learned that the Boy Scouts are now being forbidden to plant flags at our nation's armed services cemeteries this year due to Covid 19. When I mentioned that to Jeanne T., her somewhat acerbic reply was: "How come? They're already dead!" The annual official ceremony has, of course, been cancelled. "Non-essential travel" is still banned in Washington State, but Jeanne T. and Colt will be going to Cle Elum anyway. If Amazing Grace gets played there this year, it will be because Colt Jance is there honoring his father and all those other Coasties as well–guys and gals who went to their graves knowing that freedom isn't free.
And if Jeanne T. and Colt get packed off to jail for their trouble, believe me, I'll be standing ready to post their bail!
One further note. My husband is eighty-years old with underlying conditions. I'm no spring chicken at 75. We're smart enough to know that we need to limit our social interactions and be responsible for our own health and well being. We started doing so long before the lockdown was ordered, and we'll probably continue to take precautions long after it is lifted. And there are plenty of others in our demographic who should and most likely will continue to do the same. As my sainted mother, Evie Busk, would say: "Whoever you are you know who you are!" But I'm offended by the mass-hysteria that insists we need to destroy the world in order to save it.
In other words, I'm tired of the lockdown-everything mentality which is playing such havoc with all aspects of life. We did what we were supposed to when asked to do so. We stayed home. We flattened the curve, but now lockdown partisans are busy moving the goalposts for easing restrictions first from increasing testing availability to creating a vaccine to now to having a total cure. Enough already! How about inserting a little common sense into the process? If putting a loved one in a nursing home is going to be an automatic death sentence, then let's fix that, because I'm pretty sure we can.
And then let's all get back to being free—free to attend church or to have our hair cut or to go bowling. All those folks in all those un-flagged graves died so we could do just that. It's time.
I have no doubt that there are a few of my readers out there who will strongly disagree with me on all this, and that's certainly their right. We all have a right to state our opinions—and disagreeing without being disagreeable is always a good idea. But for those of you who have now, based on what I've just written, decided it's time to write me off and never read another of my books, I'd like to close with a poem from Ted Malone's Scrapbook, something I learned in 1962
Knowing you, darling's been slightly swell—
A little of heaven, a little of hell,
A piece of paradise that didn't jell,
So goodbye, you lug, it's been slightly swell.
PS: Click here for: A Credible Threat Chat on YouTube.