Occasionally people will ask me where J.P. Beaumont came from, and I'll answer, "I met him on a train, thirty plus years ago."  That's the truth, or at least it's more or less the truth.
What really happened is this.  It was March of 1983.  For months I had been spinning my wheels trying to write what would eventually become Until Proven Guilty, Beaumont # 1. My kids were still in elementary school, and it was spring break at Seattle Public Schools.  I put them on a bus to go to Camp Orkila on Orcas Island in the San Juans, and then I put myself on a train to go to Portland to spend a few days with Carol Wray, a friend from my life insurance days in Longview and Pe Ell.  I boarded the train in Seattle with a stack of blue-lined notebooks and a fistful of ball point pens.
As the train pulled out of the King Street Station, I said to myself, "What if I wrote this book from the detective's point of view?"  I pulled out a notebook and a pen and wrote:  "She might have been a cute kid once. That was hard to tell now. She was dead."  In the course of the next five days, I worked almost around the clock.  I ate when I was hungry; I slept when I was tired; and the rest of the time I wrote—30,000 words by hand!  (No computer at the time.) I had blisters on my writing fingers that required bandages.
So, when I met Beau, I was indeed on a train.  Where was he?  At a crime scene on the back side of Magnolia Bluff, investigating the homicide of a child.  But from the moment I wrote those words, I was at the crime scene with him; seeing what he was seeing; walking in his shoes; hearing what he said; and hearing what he thought.  We've been together as author and character ever since.  When it's time to write another Beau book, it only takes a few pages for me to be sucked into his orbit.  I love the things he says, but more than that, I love the things he thinks—the little mental asides that are like private jokes he shares only with me and my readers.  Does that sound a little schizophrenic?  Beau would say right about now, "Bite me."
Last week in Cannon Beach, someone asked me, "Which of your characters has more of you in them than the others?"  All of them have some, but remember, J.P. is my literary first born.  He and I share a birthday—October 27, 1944.  He gets seasick on boats and turns green on the Teacups at Disneyland.  Guess where that came from?  He had a mother who sewed his "home made" clothing on a treadle Singer Sewing Machine.  The same thing happened to me.  And when you read Proof of Life, (Due out SEPTEMBER 5 at a bookstore near you!!!) and discover Beau has a soft spot for clam strips from Chinook's at Fisherman's Terminal, guess what?  I love them, too.
So when it's time to write a Beaumont book, it's like slipping on a comfortable old shoe.  It fits in all the right places.  There aren't any unexpected rough spots that give me blisters.  I can write far into the night and feel like I'm communing with an old friend, someone whose every politically incorrect foible is perfectly understandable and whose mistakes are forgivable as well.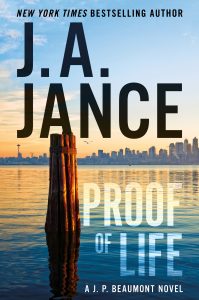 That's how I felt as I wrote
Proof of Life
, and that's how I'm hoping my readers will feel as they read it, too.  And for those of you out there who are J.P. Beaumont virgins and who have never read any of these books before?  That's okay, when you finish with this one, I hope you'll go back and read the others.  I hope you'll find you have a lot of catching up to do!
Before I go, one last word to my audio readers.  In a career that spans more than three decades, I've had several changes in narrators as far as audio editions are concerned.  For audio readers, the narrator becomes the characters, and changes are tough on everyone.  Some of my narrators have been great—Gene Engene comes to mind—and some have been not so great.  Mispronunciation of common geographical words is especially irksome to local-yokel readers.  Gila Bend—pronounced Gee Lah instead of Hee La.  And don't even bother mentioning all the possible manglings of Puyallup or Sequim!  This time when a previous narrator retired and for the first time ever, my publisher sent me samples of work from several different narrators.  Together Bill and I together settled on Alan Sklar, and he's the reader for both the novella Still Dead and Proof of Life.  I'm happy to say that in the course of doing the recording sessions, he sent me numerous e-mail inquiries about possibly troublesome words.
So enjoy catching up with my old friend, J.P.  It turns out he's still kicking, and so am I.
JAJ
PS: As many of you know, our Cannon Beach trip was interrupted by a quick trip to KillerNashville, a writer's conference where I had been nominated for an award. I had asked for my fans to vote for me for the Reader's Choice awards, but given my history with that kind of thing, I wasn't exactly holding my breath.
It was my second visit to KillerNashville. I was the guest of honor there in 2009 and guest of honor at Bouchercon in Long Beach in 2014, but the last time I was nominated for an award was 1992 at Bouchercon in Toronto for Hour of the Hunter. I didn't win.
This time in Nashville, however, I made up for lost time, walking away with not just one but three awards. Clawback won a Silver Falchion (a broad-bladed slightly curved sword of medieval times) award for Best Thriller Adult Fiction. That one is from attendees at the conference. Clawback also won the Reader's Choice Best Thriller—that one was voted by my fans. I also won Reader's Choice Best Author. (Another one voted on by fans.) Obviously my fans came through for me. Thank you to EVERYONE who made that possible.