This is my newsletter. I get to use it however I want. Traditionally a newsletter alert from me is sent out as a service to let my readers know that a new book is due out.  And that's what this is. Sins of the Fathers, the latest Beaumont book, goes on sale in mass-market paperback on April 28. I'm not sure you'll be able to go out and buy a copy. In some areas where buying tomato seeds isn't allowed, maybe buying books for fun isn't considered to be an essential purchase, either. I would argue with that, but what do I know?  In the meantime, please consider your local independent bookstores. They may not be open for walk-in business, but it's a good bet that they'll be able to ship a copy to you. So give them a call or check on their website for an e-mail address.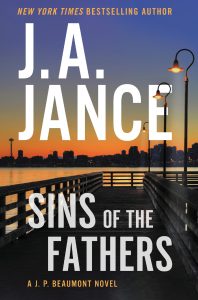 I loved writing Sins of the Fathers. It's a tribute to all those grandparents out there who, for one reason or another, are spending their golden years lovingly raising their children's children. Those people may be on the "endangered" list in this time of Covid 19, but they're also my heroes, just like the people staffing hospitals and the clerks stocking shelves and running the cash registers at grocery stores. I hope my paperback fans enjoy reading the book as much as I enjoyed creating it. Within the first several pages, I was back in Beau's world and in his
mindset—the more curmudgeonly the better.
But as I said, this is MY newsletter. And if I feel like having fun with it, there's no law that says I can't, so here goes.
I believe I've mentioned that there was a lot of singing in our family when I was growing up. Our father who couldn't carry a tune in a bucket wasn't involved, but the rest of us were. We sang on long road trips. We sang while we were doing the dishes. We sang while we were doing house work. In musicals, like Sound of Music, for instance, it didn't seem the least bit odd that every once in a while people would break into song for no discernible reason.
Occasionally one or the other my siblings or cousins or nieces and nephews will awaken with a song in their head, and they often hit their keyboards and send out a group-grope email intended to infect the rest of us with the ear worm of the day which we're automatically stuck singing and humming for the rest of the day … or the week, depending on how infectious the song happens to be.
Oh, mairzy doats and dozy doats and little lambsy divey
A kiddle  divey, too. Wouldn't you?
Oh, mairzy doats and dozy doats and little lambsy divey
A kiddle divey, too. Wouldn't you?
If the words sound queer and funny to your ear,
A little bit jumbled and jivey.
Say, "Mares eat oats and does eat oats
and little lambs eat ivy."
Oh,mairz doats and dozy doats and little lambsy divey
A kiddle divey, too. Wouldn't you?
There you go. Consider yourself infected! You'll be stuck with this one for at least the next twenty-four hours. There is no cure.
This last weekend, out of desperation we ended up watching one of the many Mission Impossible movies on TV. For the record, we were pretty much desperate. That's our excuse. And the whole time, I kept wondering whatever happened to Cinnamon. In the old Mission Impossible TV show, she was always my favorite character, but I digress.
I didn't bother paying all that much attention to the story because the stories are pretty much all the same. What I did enjoy was the scenery. A lot of the non-stop action took place in Paris, and I enjoyed revisiting it. The movie took both Bill and me back to our several trips to Paris—the scenes along the Seine, the narrow shop-studded streets, the tunnels, I especially enjoyed the car chase where a guy on a speeding motorcycle escaped by going the wrong way in that astonishing Parisian round-about, Le'toile. On one of our trips, Bill and I sat in a sidewalk café watching that amazing traffic nightmare for hours on end.
But what I mostly paid attention to was the music.  All you have to hear is the first few notes of the theme song, and you know you're signing on for a Mission Impossible adventure. And that made me think of some of the other readily recognizable music from those old television series. Just a couple of notes and you know you're hearing the theme to Bonanza or Johnny Yuma or Have Gun Will Travel or Star Trek or Voyager. They don't make theme music the way they used to anymore. A vocal with someone murmuring unintelligible lyrics to a forgettable tune just doesn't do it for me.
So yes, take me back to the old days—to Perry Como and Rosemary Clooney and Patsy Cline and Gentleman Jim Reeves. Does that mean, I'm officially old? I guess I am.
And lucky to be so.