It's been several years since we've spent fall up north rather than down in Arizona.  Because I've been out walking each day, I've been part of it.  I've watched the green vine leaves turn first transparent yellow and finally brittle brown.  I was surprised when, overnight, the leaves on the vine maple down by the fishpond transformed from green to bright scarlet.  The petunias withered away and the fuchsia gave up the ghost.  The last two blooms on the dahlia plant by the pool house decided not to bloom and turned black instead.  The only trees that still haven't completely turned are the Japanese maples on the patio.  They're just starting.
Yesterday was Halloween—the first one without rain around here since 2006.  We had one pair of trick-or-treaters—our grandson, Colt, and his trick-or-treating buddy, Alan Hoviland.  One year they were a very credible Harry Potter and Hagrid.  In the past they've been Penguin and Batman and Vikings.  Last year they showed up as zoot-suited gangsters. This year Colt was a red-haired mustachioed Mariachi, complete with a sombrero and maracas.  Alan turned up as Poncho Villa.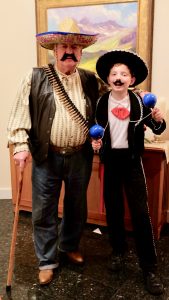 Was that cultural appropriation?  I think, in this case, it's more like cultural assimilation.  Their last trick-or-treating stop for the evening was our family's favorite Mexican food restaurant, Tres Hermanos in Kirkland.  It a family kind of place.  It's the restaurant where Colt has celebrated every single one of his birthdays!  At Tres, the brothers in question, don't call our grandson Colt.  For some strange reason at Tres Hermanos, Colt is Cauliflower Ears.  At the restaurant, I'm not J.A. Jance, best selling author.  I'm Colt's Grandma.  Tres (or as Siri likes to say, "Trays") has sponsored dine-out evenings every year to support PTA efforts at all three of Colt's elementary schools.
And what did they think of our two Anglo caballeros?  They loved them, and so do I.
As for today?  It's November.  When I took the dogs outside this morning, it was raining.  I'm not wearing sunscreen today and probably won't need it again until we're back down in Tucson.
Remember that old song, Singing in the Rain?  Today I'll be humming that, while walking in the rain and not thinking about Christmas.
Which happens to be coming at us like a freight train.