Ellen Olsen was a long time fan of my books who, when I met her, had graduated from Ballard High School more than fifty years earlier, making her what the folks in the neighborhood call "a Ballard Beaver. Years ago she sent me a fan letter—a last century form of communication. It was written in pen and ink on a note card and mailed in an envelope, with a postage stamp, post mark, and everything. In it she gently chided me for a passage in one of the early Beaumont books where Beau referred to a woman in her mid-seventies as "elderly." At the time Ellen was well north of seventy herself, and she certainly didn't regard herself as elderly.
At the time, I was in my forties and the seventies seemed like a very long way away. Guess what? They're not. They're here—not quite "mid-seventies," but close. And this week, when a newspaper headline referred to a 77 year-old woman as "elderly," I went looking for my note cards so I could send the paper a piece of my mind. Actually, that's not true. I wouldn't use a note card these days—my handwriting is too bad. But I didn't send an email of umbrage, either, because it turns out elderly is in the eye of the beholder and not necessarily in the pair of eyes looking back at you from the mirror.
My one grandmother didn't make it to her sixties. My other grandmother conked out at age 76. From my point of view, they were both elderly at the times of their passing. I'm turning 73 today and I don't feel the least bit elderly. Announcing my birthday is not a ploy to get people to send me birthday wishes, although I'm sure many of you will. It's a simple statement of fact. It's also has to do with the reality that I'm in better physical condition right now than I've ever been in my whole life. I usually walk 12,000 steps a day. That translates into five miles. I do regular workouts with curls and hamstring stretches and sits to stands. I practice balancing almost every day. Although my achievements in that regard pale in comparison to my two granddaughters' poise on gymnastics balance beams, I'm still better off in the balance department than I've ever been before. (My mother always maintained that there was never a school or Sunday school or Bible school program where I didn't show up with at least one skinned knee.)
This past Sunday I was the "Author of Honor" for the 2017 Helldorado Parade in Tombstone, Arizona. Never having been a homecoming queen, it was amazing to be riding the parade route in an open-air convertible, and believe me, that convertible was a sight to behold! It was a 99 year-old, Barolo red Nash!! Compared to the car—which could safely be termed "elderly," I was the "sweet young thing!"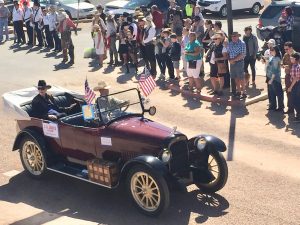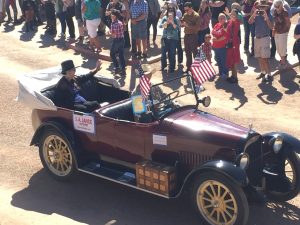 Perspective is everything. I'm glad to be "older than dirt" at the moment; happy to be a late bloomer; amazed about that long hard climb, with, as Helen Reddy used to say, "everything taking its own sweet time." Tonight, to celebrate, Bill and I are going to put on our fancy duds and go out to dinner, just the two of us. We'll probably look old, but we won't feel old.
Depending on where you are on your own life journey, I may seem elderly to you. And I realize now, that when Ellen Olsen sent me that note, she wasn't elderly, either.
Thank you for providing that piece of wisdom, Ellen. You've been gone for twenty years now, but you are not forgotten.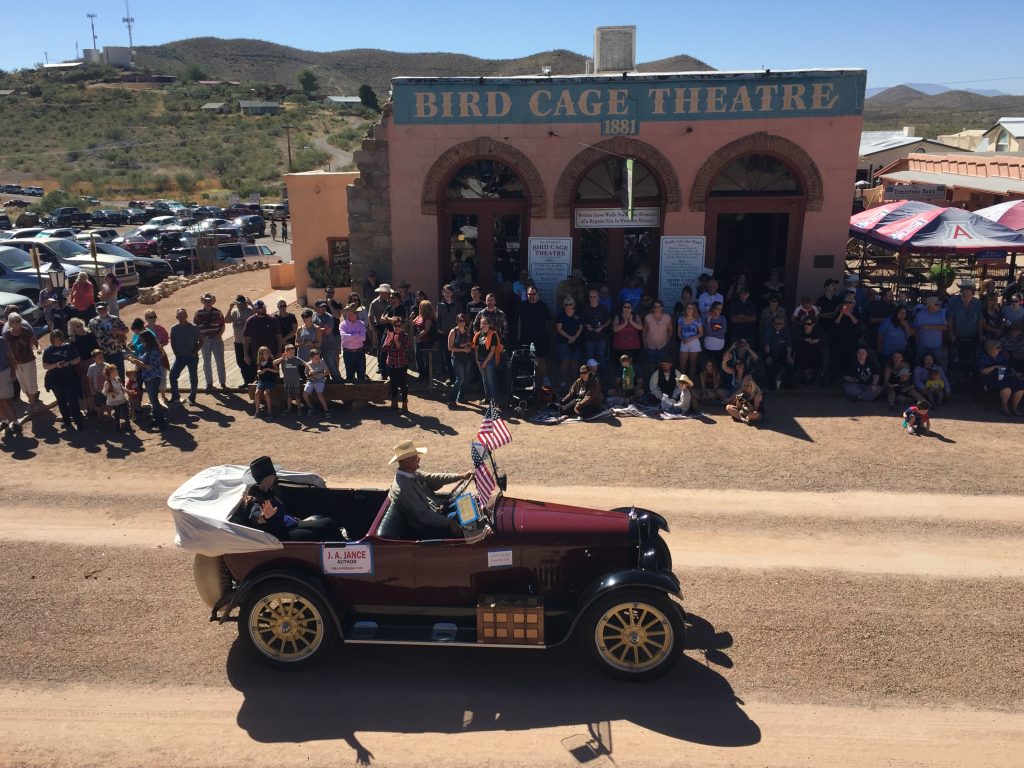 PS. Thank you to everyone who voted in the Tucson Weekly Best of 2017 for making me Tucson's Best Author for 2017.