Happy dog days of summer.  It's been hot and very smoky in Seattle.  I'm guessing I'll be finishing my steps inside the house today rather than outside.  I have it on good authority that our air quality right now is worse than Beijing's due to forest fires burning to the north of us in British Columbia.
Last week with all the wedding hoopla, I somehow missed the memo that I should have written the newsletter LAST week in time for the pub date of Still Dead this week.  All I can say is, better late than never.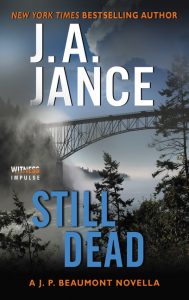 Still Dead means Beau is back, thirty two years and counting.  Even without the newsletter, I've heard from several readers who have already read it.  Unfortunately, I've also come up with egg on my face.  Maybe because I wrote the novella while on a cruise ship, my Washington State geography took a serious hit.  That's my story anyway, and I'm sticking to it.
So as you're reading along and hit the part where Beau drives to Whidbey via CAMANO ISLAND!!!, please do not take to your computer keyboards to tell me how very wrong I am.  Believe me, I already know you can't get there from there!
My parents, who were happily married for 68 years, had an understanding.  Rather than listening to what each other SAID they listened to what they MEANT. Since it worked for them, maybe my readers and I can work the same kind of deal.
In this case, regardless of what I WROTE, what I MEANT is that Beau swung off I-5 and drove toward Anacortes. A correction will be made in later editions, but probably not in the audio edition.  And speaking of audio.  I don't know if the audio version of Still Dead is available anywhere other than Audible.  Decisions about marketing the audio editions and about publishing this as an e-book only are above my pay grade.  Sorry.
We will have bookmarks for both Still Dead and the upcoming Proof of Life.  I suggest you request both at the same time, and they'll be sent when they're sent.  I'm writing an Ali book right now, so don't expect instant gratification.  The address for your business sized SASEs is P.O. Box 766, Bellevue, WA 98009.
The tour schedule for Proof of Life is being finalized and will be posted when available.
I have two upcoming events later this month.  On August 24, I'll be appearing at the Coast Theatre in Cannon Beach from two to four.  Then, through the miracle of jet travel, I'll show up at Killer Nashville on August 26 where I have been nominated for a Reader's Choice Award.  Anyone can vote (One vote only!) and it doesn't seem to be nearly as cumbersome as the voting was for the Best of Tucson.  If you're interested, here's the link to the voting page:
https://killernashville.com/awards/killer-nashville-readers-choice-award/#
I don't know about you, but this newsletter seems sort of … well … humdrum.  I want something that will make people snort their coffee up their noses, so here's a bit of wisdom my younger brother sent me this morning, from that noted comedienne philosopher, Betsy Salkind:  Men are like linoleum.  Lay 'em right and you can walk all over them for the next thirty years.