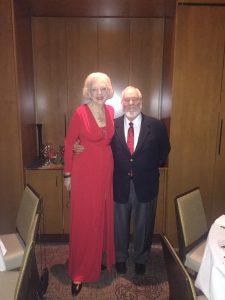 While I was growing up in Bisbee, Arizona, I heard the words "Neiman Marcus," from time to time, but they were just that—words.  I knew that it was a fancy store of some kind—an exotic emporium to be found only in the outside world, far beyond the intervening barrier of Cochise County's Mule Mountains. People from Bisbee shopped in Bisbee—at Irma Courteol's, JCPenney's, and Phelps Dodge Mercantile. Unfortunately, the clothing to be found in those places wasn't necessarily meant for girls who were six feet tall.  Pants that were ankle length on somebody else ended up being pedal pusher's for me.
I didn't venture into a Neiman Marcus of any kind until two years ago when my husband was doing some last minute Christmas shopping here in Bellevue, Washington.  While he was forming what has turned out to be an entirely satisfactory customer relationship with the sales clerk at the Creed counter, I stepped onto the escalator and rode down to the ladies clothing department.  At the time I was wearing size 26 pants, and I could tell just by looking around that the clothing on display was meant for tiny people rather than people like me. At the bottom of the escalator, and with a heart full of despair, I turned on my heel and headed back upstairs.
The following year April our lives took an abrupt turn.  At the urging of our doctor, Garrison Bliss, Bill and I embarked on our adventure in walking and we're still at it. We walk every single day—usually 10,000 steps for me and 6,000 for him.  We've learned to watch our carbs and our calories and work out twice a week with Dan Kritsonis, a personal trainer Garrison located for us on the Internet.  Over time, the pounds—seventy of them—have melted away. The pants I'm wearing now vary from size 14 to size 16—a very long way down from size 26.
On Christmas eve this year found us back at the Creed counter in Neiman Marcus. While Bill was fully occupied, I took another crack at that escalator.  On the way down I spotted a fire engine red floor-length gown—a satiny Halston with a wide sash and a to-die-for split up the skirt.  It came in three sizes—small, medium, and large.  I plucked the large off the rack and headed for the nearest dressing room.
I put it on.  It fit perfectly. It was long enough.  It was gorgeous.  When the clerk told me that a Halston large was comparable to a regular size 12!!!, you could have knocked me over with a feather. The only problem with the dress was a plunging neckline which seemed to stop just a couple of inches north of my belly button. In other words, the potential for a wardrobe malfunction was enormous.  
When one of my books makes it to a spot in the top ten of the NYTimes, Bill throws a party, and the party for Downfall was scheduled for December 28.  The moment I saw the dress on my body, I knew it would be perfect for the Downfall party. When Bill agreed, we immediately said yes to the dress and summoned the store's alterations guy.  We suggested that he add an insert of some kind to cover the portion of plunging neckline that wasn't exactly G-rated. This was on Saturday morning, and the alterations guy said there'd be no problem with his having the dress ready by Monday afternoon.  Except when Monday came around and the dress was ready, I wasn't. I  told them I'd come in to pick it up the following day.
And pick it up we did, on Tuesday morning the day before the party.  The lace insert was perfect and the snaps that held it in place were invisible.  The problem is, I had been so concerned about the neckline the first time around that I hadn't realized that the back of the dress had a peek-a-boo window between the shoulders—located, in fact, right where the bra-line crosses the shoulders. The clerk said, "No problem.  All you need to do is pull the bra down.  It won't show at all."
Bill is a good man and a wise one.  He's someone who chooses his battles and considers his words carefully before he speaks.  It wasn't until several hours later before he mentioned to me in passing that he thought I really did have to do something about the bra situation. Except by then it was way too late on Tuesday evening to go back to the mall.  
So yesterday morning, the day of the party, I got up bright and early and, with the dress in hand, headed for Belle-square. The bra-fitting clerk at Nordstrom's wasn't particularly helpful or hopeful.  In fact, her initial suggestion was that I go bra-less. She's maybe a forty-something.  I'm seventy-plus.  Going braless was NOT an option. Her backup plan was a set of straps that could be attached to my regular bra fasteners and then wrapped around my waist and fastened there—a procedure that made me look like a sausage that had its bindings pulled way too tight.  Nope.  Never do; never do! Her third suggestion consisted of a pair of stick-on bra cups made out of bronze colored molded plastic that were supposed to be attached with some kind of double-sided glue. They looked like the kind of body armor you could find on one of the female characters in Ride of the Valkyries. I was tempted to break out in an operatic version of the single word "NOOOOOOOO!" 
So I took the dress, left Nordstrom's and marched up the corridor to Victoria's Secret. When there were no low-waisted strapless bras to be found there, either, the dress and I trudged on, this time to a lingerie emporium called Soma.  That's where I found a possible solution—a bra-like device that consists of two soft cups (as opposed to plastic body armor) designed to attach under the arms by wings made of more double-sided sticky stuff. That stick-on strapless is what I came home with.  When I put it on under the dress, the bodice of the dress was tight enough to hold the stick-on bra in place.  If I do say so myself, the results were pretty spectacular. 
It's only appropriate to mention that among the guests at last night's party were two of the people who made my wearing that size 12 Halston gown possible—Garrison Bliss and Dan Kritsonis. (I'm proud to say that last night at the party, my Fitbit registered 14,300 steps to Garrison's 13,500. YAY for me!!)
Although Garrison has since referred several of his patients to Dan, until last night when they were seated at the same table for dinner, the two of them had never met in person. I don't know if they talked shop during dinner, but everyone at the table, including Garrison's wife, Suzanne Wu, seemed to be having fun.
The other people in the crowd were a motley crew I consider to be members of my literary "village." Kids and grandkids were there, of course, along with long-time book sellers (J.B. and Gretchen Dickey from Seattle Mystery Bookshop and Pat and Ed Rutledge from A Book for All Seasons in Leavenworth); long time readers and friends, Jim and Lynne Norman from Bainbridge; one of my kids' long ago elementary school principals, Ed James and his wife, Juli, from Renton; my literary agent, Alice Volpe and her husband, Champagne Al; Jim Hunt our wizard interior designer; Bonnie Abney from Second Watch fame; and Marthinus Becker, our property manager, along with some of his visiting relatives, Johnny and Brenda.  As I went around the room making introductions, I was amazed to realize how many of those folks have made it into my books one way or the other.  
All in all it was a wonderful evening. It was Cinderella and the ball all over again, only Cinderella never got to show up in a bright red ball gown complete with a stick-on strapless bra!
We had the party because my readers—blog readers and book readers—put Downfall on the NYTimes list, so thank you to all of you who made it possible for Bill and me to show our gratitude to some of the people who have been along for the ride on this thirty-plus-year journey.
Please feel free to color me grateful, but when you do, be sure to color me grateful in a bright red dress.