Once again, this is a combo newsletter/blog. For those of you who receive it twice, my apologies, but this is the best way to make sure EVERYBODY gets it. And for those of you who don't recognize the subject line abbreviation DTRs? Those are my Dead Tree Readers, the ones who wouldn't touch an e-book with a ten-foot pole.
Remains of Innocence, Joanna Brady #17, goes on sale next Tuesday in what the publishing world calls mass market or mm, for those in the know. That means paper, folks. Paper, paper, paper. In the back of the paperback edition, as an extra attraction, you'll find The Old Blue Line, a novella that tells a lot of Butch Dixon's back story. So if you're a paperback type, Tuesday is the day to start your engines.
And now on to the blog proper.
Vacation is over, and I'm back at work. The prologue for the next Ali book, Claw Back, is in the can, and now I'm working on Chapter 1. Writing that first chapter is always a challenge. I find myself yielding to the temptation to TELL, TELL, TELL when I should be writing things that SHOW, SHOW, SHOW which is the essential difference between writing a newspaper article and a novel. 
I'm writing both this announcement and the novel on our back porch this afternoon. After days of gorgeous sunshine, today is overcast but still warm enough to sit outside. I'm told that rain is coming tomorrow, but I'm not worried. I try to keep in mind the words from that old song that say:  
Though April showers may come your way,
They bring the flowers that bloom in may.
So keep on looking for that bluebird
And listening for his song
Whenever April showers come along.
Except it turns out, many of the spring flowers are already here and some have even come and gone. For example, the wonderful orange and yellow tulips in the back flower beds are already a thing of the past.
And speaking of the past. When I was in high school, I usually walked to school. This was "back in the old days" when high school kids didn't routinely have their own cars to drive back and forth to school. It was a little over a mile, and no it wasn't all uphill, and no I didn't have to walk back and forth in a blizzard. In fact, it was usually sunny weather with clear blue skies overhead, but it was 1.1 miles—down Yuma Trail, left on Arizona Street, right on Congdon, and finally right on School Terrace Road. I did a lot of thinking on those solitary walks, and I confess I did a little envying, too.
On the corner of Congdon and West Vista, was a green and white house made of concrete block. The house belonged to a local attorney, Dan Moore, the elder. Dan Moore, the younger and also an attorney, lived a few houses away from his parents on the same street, but it was the home of Dan Moore, the elder, that toggled on my envy switch.  
Every spring as I walked by, the house's shaded front porch was lined with amazing bunches of lavender wisteria that came to life and glorious bloom each spring, dripping like mini waterfalls, off a gnarled tree trunk that, during the winter, looked to be as dead as a doornail. I wanted a wisteria in our yard in the worst way, but once mine water was no longer available for irrigation use in Bisbee, my parents did away with fruit trees and gardens of any kind. Watering them was simply too expensive.
Each time I walked past that blooming wisteria, I lusted after it. And when I wrote Trial by Fire, Ali #3, I created a fictionalized version of the Moore's long-remembered wisteria plant on the front porch of what is now Ali's Manzanita Hills Road home in Sedona.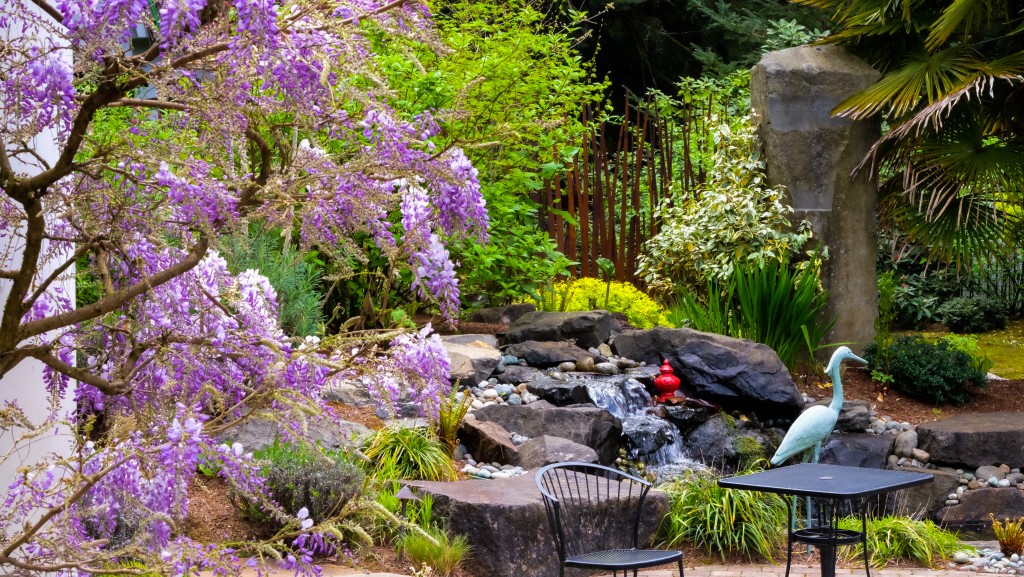 When we did our garden here a few years ago, having some wisteria was my personal hot button. Now, as you can see, I have some. It bloomed beautifully last year, but we missed it. By the time we came home to Seattle at the end of May, the wisteria, like this year's tulips, had already come and gone. This year, because of the tour schedule, we came home earlier than usual. The wisteria is just now coming on, and I've been spending time on the back porch, so I could take it in.
Just now, between the L and the E in the word Seattle in the above paragraph, the ($&(I@$ heron showed up and landed next to our fish pond. I charged across the upper patio, screaming like a banshee. I may have scared Bill to death, but it I also scared the heron. So our gold fish, the few survivors from last winter and the new ones we added on Sunday, are safe for the day.  
If I hadn't been outside writing this blog, the heron would be down there right this minute munching on our little guys in complete privacy.
What I have to say about that is this: All's well that ends well. For today at least.  
And maybe there's a tennis ball shooter in my future.